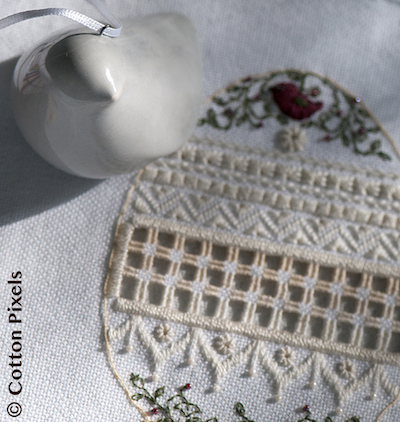 Once upon a time one cross stitch internet-community organised an easter egg designs competition… Participants  got blank chart with outline of egg and cup (approximatly 71h x 46w stitches) and had to design and stitch an egg in any style.
I took part. I just discovered Hardanger embroidery at that time and was fascinated by this technique, so this became the main theme of my easter egg. I didn't want to stitch egg cup – it was one of the contest's conditions and it's in the chart, but you can skip it!
The central part is combination of rows of different decorative stitches and filigree hardanger band in ivory shades. Upper and bottom parts are floral pattern in backstitch, red beads and satin stitch bird.
Model stitched on 27 count Linda, finished size 8.5 x 12 cm (+1.5 cm optional egg cup). The PDF contains chart, row by raw instructions and stitches diagrams.
Although this egg didn't win the community vote, it got a prize from one of needlecraft brands and organiser!