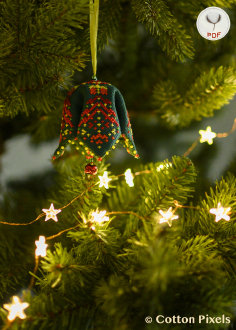 Easy to stitch festive bell with bright red and yellow pattern against forest green background.
Stitched area: 53 x 53 stitches.
Finished size: approximately 2.5 inches.
Model stitched on 14ct. Aida.
My other bells are stitched on 16ct. fabric,      but I couldn't find 16ct. green Aida so I used 14ct. Aida, nevertheless finished size of this bell is approximately equal to other bells.
Pattern PDF includes:
– List of materials
– Step-by-step instructions for stitching and finishing with photos
– Symbol and colour key
– Colour and symbol charts
– Black and white symbol charts (for easy printing)
Floss: Anchor + DMC (I used Anchor Stranded Cotton because their red shades are warm and has no purple undertone
Colour count: 6
Stitch type: cross stitches, 4 beads and back stitches for finishing.