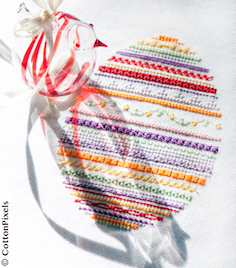 This egg was late for the contest so it doesn't have that 'cup' dilemma : )
The egg is a-la canvas work – a mix of rows of different (easy!) stitches in bright and cheerful colours to wake you up after long greyish-greenish-brownish-novemberish months.
Model is stitched on Linda 27 – nice, soft and suitable for a such patterns (not too large-not too small).
Provided as PDF with pattern, row by row instructions and stitches diagrams.