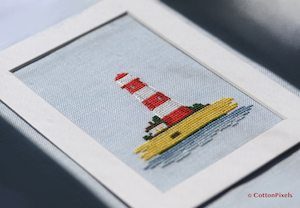 Design based on Happisburgh lighthouse which stands in a wheat field on the North Sea coast (Norfolk, UK). There is a keeper cottage on the left of the lighthouse and a historical pillbox fort in the field.
Includes optional version without wheat field.
Stitched area: 53w x 51h stitches.
Model stitched on linen evenweave Belfast (32ct.) 'Blue Grey', finished size: 3.3″x3.18″ (8.4 x 8.1 cm) approx.
Can be stitched on other count and colour fabrics – approximate size for 14/28ct.: 3.8″x3.6″ (9.6 x 9.2 cm), for 18/36ct.: 2.9″x2.8″ (7.4×7.2 cm).
Color count: 11 (no combined colours).
Full cross stitches and half stitches.
Backstitching: Lighthouse outline.
– full colour chart with and without backstitch
– black and white chart with and without backstitch
– colour and b/w symbol key for DMC threads
– finished work photo for reference
– additional chart without a wheat field