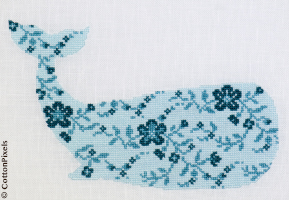 This is my beloved whale.
It's the turning point in my small business. But it was created almost accidentally. Couple years ago I stitched a lion's silhouette with leafy pattern designed by Lucie Heaton (from 'Cross Stitcher' magazine). And I decided to make a paired design – a whale with flower pattern.       I drew the whale's silhouette, filled it with old fashion flower motif and stitched it. Months later I sent it for National Needlecraft Awards 2018 (UK) and my whale became one of three finalists and was exhibited at The Spring Knitting & Stitching show in Olympia. I know it's not huge, but the fact that people liked my work gave me confidence to start 'Cotton Pixels'
121w x 81h stitches and just three shades of stranded cotton.
No backstitch.
Provided as PDF with chart (colour) and instructions.