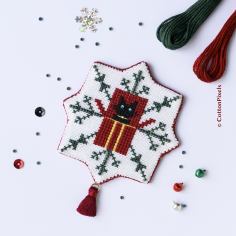 Gingerbread style eight-pointed star ornament with beaded cat playing peek-a-boo in a gift box against a decorative snowflake of stitch and beads.
Model was stitched on cotton evenweave Linda 27Ct. 'White'.
Finished size: approximately 3¼" in diameter.
You can easily change colour scheme and choose other types of fabric as well.
Pattern PDF includes:
– List of materials
– Symbol and colour key for each stitch and bead
– Step-by-step instructions for stitching and finishing
– Full colour chart
– Black and white chart
– Colour photo for reference