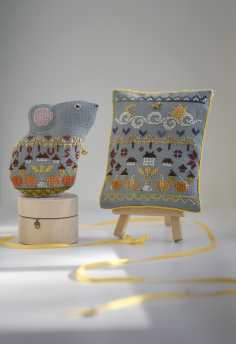 Autumnal sampler in shape of a mouse and a small pillow.
The mouse was stiched using DMC floss (colour count 11, 3 beads and optional jingle bell).
The pillow was stitched using GAST and WDW threads (colour count 10 – alternate DMC given, optional bird charm).
Both models were stitched on 32ct. Permin/Wichelt 'Twilight'.
Approximate finished size: mouse 3.5 x 3.5 inches, pillow 4 x 4.75 inches.
Pattern PDF includes:
– List of materials
– Step-by-step instructions for stitching and finishing
– Full colour mouse chart with colour and sybol key
– Black and white mouse chart with symbol key (for easy printing)
– Full colour pillow chart with colour and sybol key
– Black and white pillow chart with symbol key (for easy printing)
– Colour photo for reference